8th-14th February 2021
National Apprenticeship Week took place from 8th-14th February 2021, and we used the week to showcase what an Apprenticeship is, the support East Coast College can offer and the many benefits hiring an Apprentice can bring to employers.
Our social media pages were filled with content all week, including videos from some of our Apprentices and the employers we work with, a 'meet the Apprenticeships team' series, a live Q&A session and so much more.
Throughout the week we also ran a series of webinars in partnerships with employers, to give an insight into their industries. These were split into four different sectors – renewable energy, construction and engineering, energy and business – and all the recordings are available to watch back using the links below.
In the news
To celebrate National Apprenticeship Week, we prepared an article for local employers to answer some questions about how an apprenticeship works and the benefits it can bring to a business.
You can still read our Hiring an apprentice: how does it work and what are the benefits? article in the Eastern Daily Press.
Webinars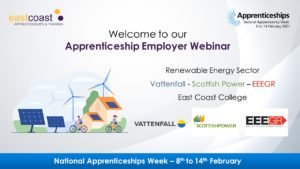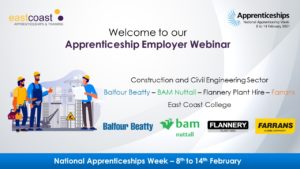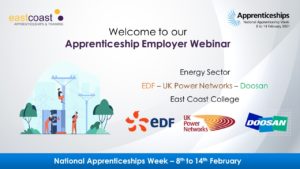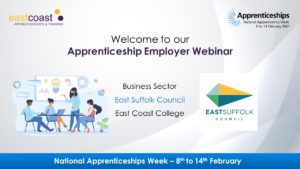 Videos
Hear from Emily, who is completing a Level 3 Apprenticeship in Business Administration with Jenex Ltd.
Hear from Chelsea, HR Advisor at Gardline in Great Yarmouth, who talks about how employing Apprentices has benefited their company.